This isn't the first time in history men have worn a one piece.
Before the rise of the bikini, the fashion of the early 20th Century saw both the female and male body almost completely covered, usually through a one piece. The style at the time was called a "maillot". Hence all our one pieces for ladies and Gent's start their code # with the letter "M" for Maillot!!! We are right on it. Fast forward Aussie thinkers, well ahead of out times and the world!
Men of times showed their arms, legs and neck, but it wasn't until 1907, when Australian swimmer Annette Kellerman was arrested for indecent exposure for wearing the same as her male counterparts, that the one piece we know now became accepted swimwear for the ladies. The Ladies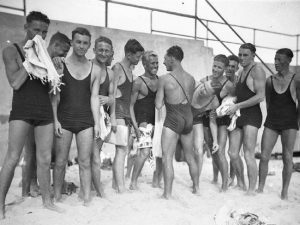 one piece made its debut during the 1912 summer Olympics, the first of which women competed.
One piece for him is fashion forward used by most athletes, we have gone a step further and introduced men's thong one piece and g string one piece for men who are free thinkers, we have man thong/ G string, man micro Brazilian back, man full piece even SHEER MESH & SEE THROUGH!   swimwear for men, made in Australia by a Queensland based swimwear company. Your package will fit comfortably in our lined front men's range. Enjoy in you private pool, public pool if permitted, beaches and overseas destination. Men's one piece is the new fashion forward for men designed by boobah" the creator of the Pammy bikini, Paris Bikini & Convertible Bikini as all featured on ACA Channel 9 AU.
No products were found matching your selection.